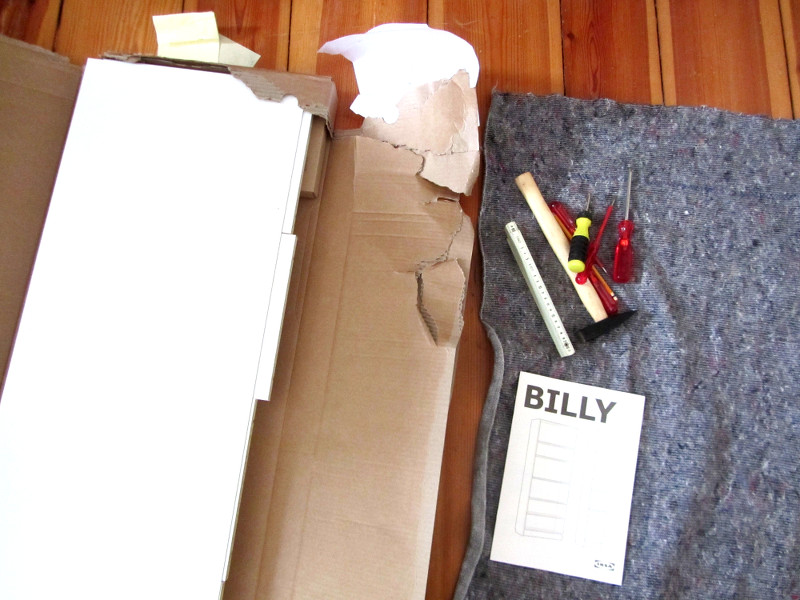 In Vorbereitung auf das Digital Bauhaus Summit, eine sicherlich spannend werdende 2tägige Konferenz Mitte Juni in Weimar, an der so schillernde & scharfsinnige Menschen wie Barbara Vinken, Stephan Porompbka, Jutta Ditfurth, Rafael Horzon, Emily Segal und Raul Zelik teilnehmen, habe ich nun gerade eine gewisse Spanne meiner Lebenszeit der Investigativrecherche gewidmet. Man könnte auch sagen: der teilnehmenden Beobachtung. Oder auch so: Ich habe – erneut, erneut – einen Selbstversuch im Dienst der Erkenntnis gewagt. Das Experiment lässt sich wie folgt zusammenfassen:
Ich habe, nach längerer Zeit, mal wieder ein BILLY-REGAL gebaut.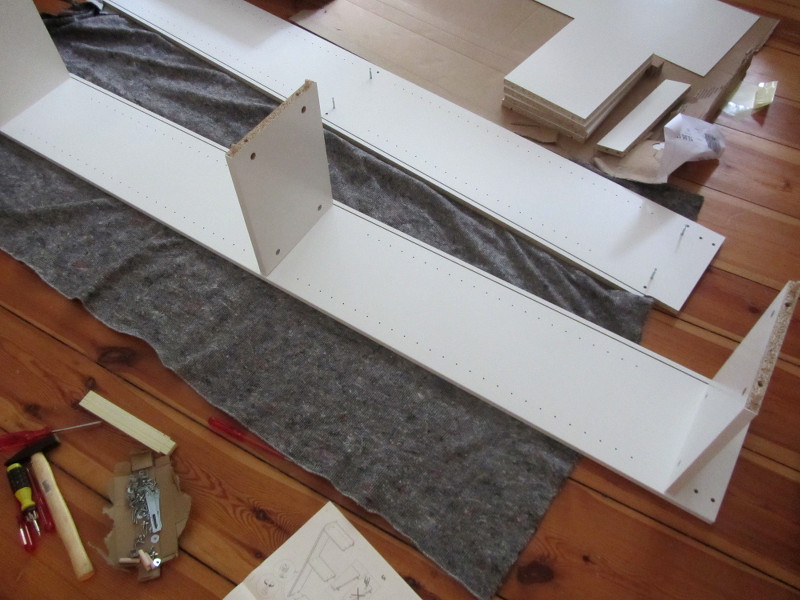 Titel und Thema der Konferenz, die auf Englisch laufen wird: HOW TO BE MODERN TODAY.
Modern life is rubbish. Or is it? Being modern seems to have gone out of fashion and a notion emptied of all significance, merely a shallow reference to worn-out avantgarde attitudes or to design objects from the past which nowadays have become stale classics. What could it mean today to be modern, after the concept of modernism and its dark dialectic of enlightenment have been thoroughly discredited and its successors of postmodernism and post-postmodernism as well as various retro movements have also run its course? Or have we never been modern – yet?
Bei dieser Fragestellung, in Verbindung mit den Wörtern BAU, HAUS und BAUHAUS, kam ich, als man mich einlud und um einen Beitrag/Vortrag bat, sofort auf BILLY. Das weltberühmte Regal ist selbstverständlich auch Teil der Kullmann'schen Lebenswelt.
Und ebendarum wird sich mein Vortrag am 17. Juni drehen – also um die Überlegung:
Recognizing oneself as an INDIVIDUAL and at the same time as a MASSENMENSCH, always:
This is the core principle of being MODERN.
Hier das Vorab-, äh, Abstract zu meinem Vortrag, wie auch auf der Digital-Bauhaus-Webseite zu lesen:
The Political Impact of Billy: How a Bookshelf Became an Indicator for Socio-Cultural Shifts

Everybody knows it, many live with it in their homes – and in each Billy-biography there are moments of love and hate, of pride and shame. Hardly any other piece of modern furniture tells so much about the ongoing status wars in society as Ikea's Billy-shelf does. When inventing it in 1978, its designer Gillis Lundgren thought of it as democratic: "Billy has allowed so many people to have their own home library", he once said. Billy was indeed born in an era, when left-libertarian ideas about the welfare state and about the improvement of mass-education prevailed. In the 1990s, with the surge of the neoliberal ideology, these ideas collapsed. And so did Billy – almost. Ikea decided not to produce it any longer, and Neocons discussed it as an example of a "too socialist" way of living. But Billy survived, mainly due to worldwide consumer protests in defence of "their" Billy. Just recently, Billy underwent another small revival, under the fashionable feuilletonistic caption "Normcore". At the same time, public educational systems are currently being dismantled even more radically, individual purchasing power is drifting apart even more, and status anxiety is strongly on the rise again. It might be the right time to re-read and re-use Billy as a political symbol.
Na, ich freue mich auf diese zwei Tage in Weimar, sogar sehr.
Abschließend noch zwei Empfehlungen, frisch aus der aktuellen BILLY-Aufbau-Erfahrung gezogen:
1. Die Leute haben alle Recht, sie hatten es schon immer – nein – fahren Sie niemals, wirklich niemals samstags zum Ikea, versuchen Sie unbedingt, es terminlich irgendwie anders einzurichten.
2. Hören Sie beim Aufbauen – Achtung, Kalauer, aber dennoch wahr & richtig – Billie Holiday oder etwas vergleichbar klassisch-elegant Entspanntes und Deepes, so behält man leichter die Nerven. (Wer ganz genau, also wirklich ganz genau hinschaut, entdeckt oben auf dem zweiten Foto, im schon fortgeschrittenen Bauprozess, einen von mir eigenhändig fabrizierten Konstruktionsfehler, den ich zwar auch gleich feststellte, right in the making, der dann aber nicht mehr so leicht zu revidieren war, ohne dass das Baumaterial wohl Schaden genommen hätte, ausgeleierte Spanholzlöcher usw., also überschlug ich schnell, ob das Ding trotzdem stehen würde, kam zum Schluss: "Ja, wird wohl", klebte zur Sicherheit noch einen Kaugummi in den fraglichen Winkel und ließ es ansonsten so, wie's jetzt ist, mit einem kleinen Schönheitsfehler eben – nun ja. BILLY halt!)
Immer die Ihre: KK